Raising the bar on glamping
Kingdomes transforms underutilised rural properties into high-end, year round, glamping accommodation businesses using our premium dome structures.
Our domes are built to last.
Classified as moveable dwellings.
5 year warranty on all our structures.
Our Range
Our Shop
Contact Us
Bringing the

modern luxuries

of the 21st century into the timeless

beauty of nature

in an

eco-sustainable way

for a

better world tomorrow

.
Kingdomes Specialises In Glamping Domes
Spacious, durable, relaxing and versatile, our domes are equipped to handle a multitude of uses including the options to add individual rooms such as bedrooms, bathrooms, kitchen areas, entertainment areas etc. The only limitations to our structures are your imagination.
Learn More
For Business
Corporate Events
Networking Events, Conferences, Seminars
Health Centres
Holistic Care, Gyms, Personal Training
Home Businesses
Freelancer, Content-Creator
Celebrations
Weddings, Birthday Party, Hens Party
Wellness Retreats
Yoga Studio, Meditation Space, Sound Healing
Office Space
Work From Home, External Workspace, File Storage
For Personal
Home Domes
Couples, Families, Multi Family/Friends
Self-Improvement
Home Library, Study Room, Home Gym
Personal Space
Man Cave, She-Shed, Kids Play Area
Hobbies Room
Music and Art, Build and Create
Find Yourself
Zen Space, Chill Zone, Meditation/Yoga
Grow
Home Garden, Green House, Herb Garden
Designed by Aussies for Aussies
Apart from the obvious unique look to them, our domes are built to last. In the harsh Aussie climate, our structures can withstand the severe elements that Australia is well known for. From the snowy Aussie Alps to the tropics of Northern Queensland, we've got you covered.
Shop Our Range
Frame: Powder Coated Steel.
Solar Fan: Extracts hot air from dome. On/Off switch, AC adaptor.
Large Bay Window: Largest clear section of the PVC cover.
Discover what our satisfied customers have to say about their experience with Kingdomes.
Attention to detail. This Aussie company lives and breathes their domes. Impressive array of sizes and interior colours to match. Mine is white and grey and the smallest on offer. Plenty of space as a separate office away from the noises of the family home. Quick and easily built by Kingdomes. Reasonably priced. Very happy. Give them a call and speak to Jesse.

Tee
I have never experienced such a highly level of genuine customer care. From the first enquiry through to aftercare. This is a team that goes above and beyond. We are looking for excuses to keep working with them. Highly recommend.

Renee
The King Domes crew a dynamic, energetic and prepared to take on every challenge and work hard at solving then - earnest, good people with good business ethics and values, they have also been an absolute pleasure to deal with.

Jimmyz
Working with Jesse, Ash and Simon over the past year has shown me nothing but endless professionalism, dedication to the King Domes brand, and excellent service to their customers. The Product itself is without doubt, the very best, and I have championed that people could easily live in these as a house, and not just 'glamping'.

Phae
We've just purchased our first 7 metre dome & hope to buy another one before the end of the year. I was really surprised how quickly & easily we received our dome (especially given the current situation with deliveries etc)The team at Kingdomes Jesse & Simon are lovely guys, they answered all our questions very clearly so we understood the whole process entirely, they were very professional but approachable.

Carla
Master the Fine Art of Glampreneurship!
Before you ride off into the glamping sunset, wouldn't you like a treasure map—or three—for your journey? We've got the golden nuggets to make you the Sultan of Glampistan, the Queen of Eco-Luxe, or the Emperor of Domeville! (Titles pending, but you get the idea!)
Snag These Freemium Docs: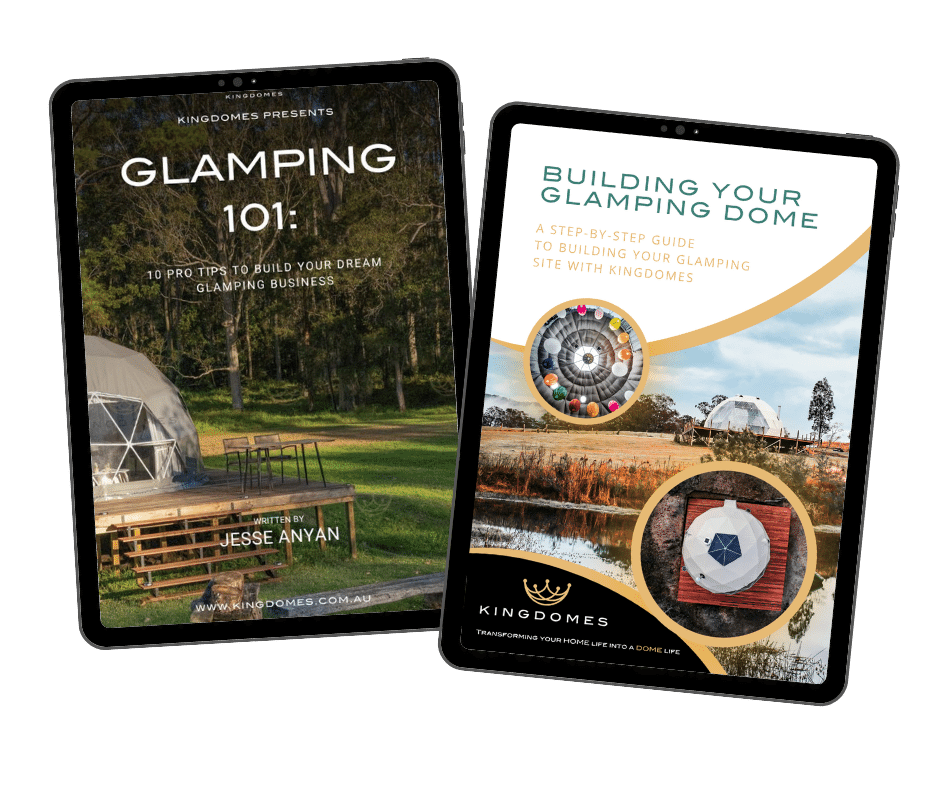 Our irresistible 'Glamping 101: 10 Pro Tips to Build Your Dream Glamping Business' E-Book

The legendary 'Stages of a King Dome Build' E-Book

And other essential loot that'll be your compass in the glamping wilderness!